The role volunteers play in society will be addressed at Thailand's 2nd National Conference on Volunteerism on 28-29 September, 2016. The conference will focus on a significant contribution volunteers can make to the achievement of Sustainable Development Goals.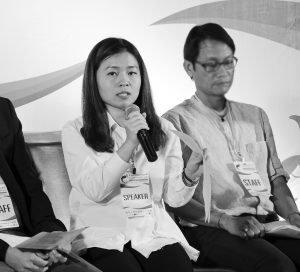 Ms. Hattaya Wongsaengpaiboon, Programme Manager of Voluntary Service Overseas (VSO)  Asia Pacific, the world's leading international development organization that has been fighting poverty by harnessing the power of volunteering, said that an interest in volunteering work has significantly increased worldwide over the recent years, not only in response to natural disasters but also social issues. At the United Nations Sustainable Development Summit 2015 held last year in New York, the leaders of virtually all countries around the globe, as well as many personalities from the civil society and the business, supported the adoption of the 17 Global Goals for Sustainable Development ("SDGs"). These goals will help shape sustainable development policies and actions around the world for the next 15 years.
"In this context, volunteering saw its importance reinforced as a people – centered approach to help address development challenges. Indeed, volunteering typically involves cross-sectoral collaborative actions, and therefore significantly contributes to the achievement of SDG 17, which aims to revitalize the global partnership for sustainable development," said Hattaya.
The Asia-Pacific region is remarkably active insofar as volunteering is concerned. For example, South Korea has advanced structures supporting volunteerism to achieve its development goals. In 2006, the country's first national law on volunteering, i.e. the Basic Law on Promoting Volunteer Service, established the National Committee on Volunteer Promotion. This committee comprises government and civil society representatives and encourages the public to participate in volunteering activities.
Japan is also highly active in terms of volunteering engagement. According to Japan's National Survey of 2011, there are 29.95 million people, or 26.3% of the country's total population, who are engaged in volunteer activities. The highest participation rate measured corresponds to volunteering activities related to achieving local improvements (10.9%), followed by volunteering activities related to children (8.2%). Statistics also show that an increasing number of people volunteer in relation to disaster-related matters, as the figures for this type of work rose from 1.8 million in 1995 to 2.3 million volunteers in 2011.
However, further improvements are still needed. Fostering partnerships for sustainable development between the corporate sector, government bodies, civil society, and key stakeholders in the development field, is critical for the region to reach SDG 17.
As it is essential for any sustainable development agenda to ensure that an enabling environment is created for volunteerism, the significant role volunteers play in society will be discussed at Thailand's 2nd National Conference on Volunteerism to be held on 28-29 September, 2016 at Thammasat University, Thaprachan Campus, Bangkok.
At the conference, Dr. Surin Pitsuwan, Thailand's former Minister of Foreign Affairs (1997-2001) and the 12th Secretary General of the Association of Southeast Asia Nations (2008-2012), will give an opening speech on 28 September at 10.00 am addressing how volunteering contributes to sustainable development. Furthermore, representatives from South Korea, India, Hong Kong and Japan will also share their views on the volunteering initiatives in their respective countries and explain how these are strategically implemented to achieve development goals at the national level.